I originally wrote this light-weight application to get more precise measurements of how my time gets allocated on  software projects.  However, it evolved as a general consulting tool.
ccProjectTracker  allows you to quickly start timing a task when you are in front of your computer (e.g. timing phone calls, email responses, etc). If you are in consulting that involves computer work, this is also handy to keep track how long each part of your project takes. Once the project is complete,  ccProjectTracker can export project tasks and their information (start time and end time,  duration) to Excel for billing.
ccProjectTracker Features
Track multiple projects

Track multiple tasks within a project

No database required (project info automatically saved to disk)

Allows export of tasks to Excel (via CSV file)

Allows configuration of rounding interval (i.e. increments task duration in billable [e.g. 15 minute] increments)

Runs in the system tray

Light-weight (<50 KB)

Free
How To Use ccProjectTracker
1. Unzip the app into a folder on your computer and double-click to run
2. A clock icon will appear in your System Tray

To Start a New Task
1. Double-click the clock icon in the system tray
2. In the 'Start a New Task' dialog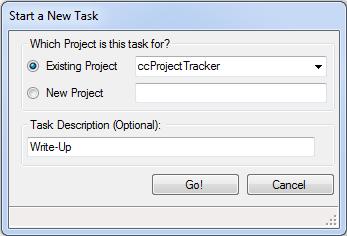 Identify the project to which this task will be assigned to. If the project does not yet exist, enter the project name to create one. Optionally, provide a description of the task
3. Click 'Go!'. Your task is now being timed.
Note: If you start a new task, any currently running task will be terminated and its End Time will be recorded

To End a Running Task
You can end a running task by either starting a new task, or by right-clicking on the clock icon in the system tray and selecting 'End Task' or 'Close Project' from the Menu.
Obviously, exiting the application will also terminate any running task.
To Close a Project
1. Right-Click the ccProjectTracker icon in the System Tray
2. Select the you would like to close from the 'Close Project' submenu

3. In the 'Close Project' Window,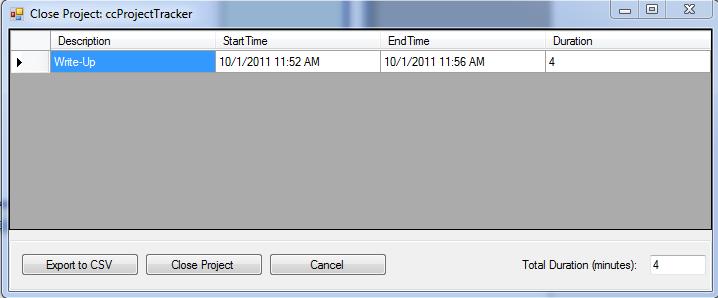 4. Optionally Export your project deeds to CSV (Excel-compatible) file
5. Click 'Close Projects' to permanently remove it from all menus and drop-downs.
Configuration
ccProejctTracked rounds up the time to the nearest minute (seconds are not tracked). You can change this in the ccProjectTracker.exe.config file. Just open Notepad and change RoundupMinutes value to what you wish. While in there, you can also change the default task description.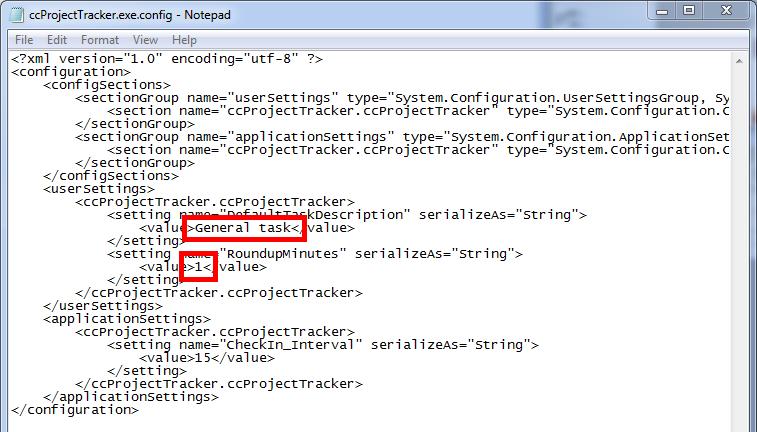 Please leave everything else as is.
Please let me know if you have any issues or would be interested in more features or customizations. If you like the app, donate to support future development.
Cheers!
Free Download and Installation