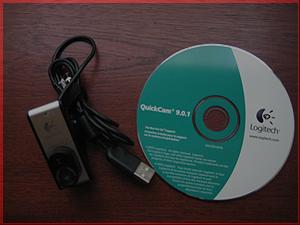 I was setting up a make-shift security system in my house and wanted to use one of my laptops as the point of capture. I had a spare QuickCam for Notebooks Pro laying around, so I thought I'd give it a whirl. The laptop is running Windows 7. I plugged the camera in and was surprised to find that no drivers were available for it and the webcam showed up as "Unknown Device" I went to the Logitech site and was again surprised to see that Windows 7 was not a choice for available OS for my webcam. I thought I'd wing it, and try the Vista version.. Many threats of incompatibility later, I had everything installed but webcam still not recognized..
Support Forums included many frustrated Logitech customers battling the same issue, and a nice message from Logitech indicating that the camera will not be supported.
Well.. The best thing I can come up with for this turn of events is that Logitech wants you to buy a new camera. That logic is rather poor (and not becoming of a company that uses 'Logi' as part of its name) as it seems a customer upset by lack of support for products they already own would not come back and buy another product..
Anyway. Here is a workaround that enabled me to get my QuickCam for Notebooks Pro running under Windows 7 x32.
1. Install latest QuickCam software that's available for download – I used Windows Vista Multilingual 32-bit QuickCam v11.1 download.. Run everything despite the ominous warnings about "Known Compatibility Issues".
2. Dust off the original CD that came with the camera – for me it was QuickCam 9.0.1… – and pop it into the drive, but do not run setup. (I could not locate older version downloads on Logitech site.. I think one strategy would be to looks for support software for their legacy devices like QuickCam Pro 3000 or something.. I am pretty sure I can't distribute their software here… Shoot me an email if you are in a bind.)
3. Plug the camera in, and watch Windows 7 try in vain to install the drivers for an "unkown device"
4. Go to Control Panel->Device Manager and locate your "Unknown Device" in the list.
5. Right-Click and select "Update Driver Software…"
6. Select "Browse My Computer for driver software"
7. Select your CD drive, make sure "Include subfolders" is checked off, cross fingers, and click Next
In my case, these steps resulted in windows finding a driver for "QuickCam for Notebooks Pro" and installing it under "Imaging Devices" in Device Manager. Subsequent launch of QuickCam 11.1 resulted in a working video capture.
Cheers
Update – 2010.03.13
It appears Logitech has fixed their little snafu and made the drivers available for download via Windows Update. Today (after reading Ken's post), I plugged the webcam into yet another notebook of mine (Windows 7 Professional x64), and the drivers were installed auto-magically without any aforementioned hassle.
Good on ya, Logitech.